Changes to waste collection coming January 1
Municipality of Chester has changed some stops on the waste collection schedule effective January 1, 2020.
What are the changes?
For many, the change will simply be a matter of putting waste out an hour earlier as the new start time for collection will begin at 7:00 a.m. instead of 8:00 a.m. For others, the day (and possibly week) of collection will change.
Why are changes happening?
The Municipality of Chester is working with our waste collection contractor, GE Environmental, to make collection more time efficient and better organized.
Kaizer Meadow closes at 4:00 p.m. Sometimes, full trucks are unable to unload by closing time, which means they have to unload when we reopen at 8:00 a.m. the next day. This delays collection for that day, and, in the winter, processing a frozen load is more difficult. Also, both of our neighbouring municipalities start waste collection at 7:00 a.m.
The number of daily stops between some routes is unbalanced. Grouping some areas so their collection corresponds with when a truck is passing by and balancing out the number of daily stops, waste collection will be more efficient and better organized.
There is an increase in waste volumes due to biweekly bulky collection and growth in communities.
Am I affected?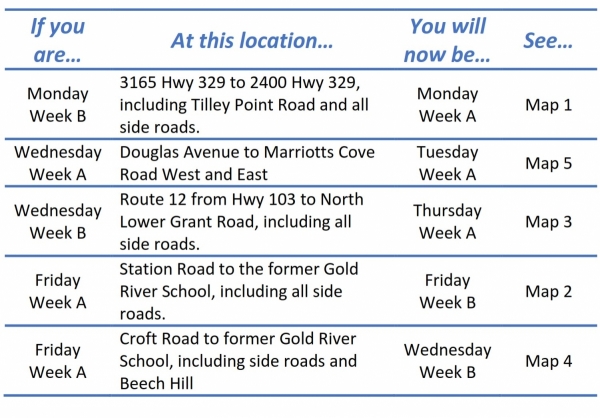 The 2020 Waste Collection Calendar will have the new routes and descriptions in it. Affected customers will also receive a hand-delivered notice at their residence over the next week.
To recap:
Changes are effective January 1, 2020
Waste collection will start at 7:00 a.m.
There will be changes to five waste collection routes

Monday Week B (Hubbards/Blandford boundary section)
Wednesday Week A (Douglas Cove Road to Marriott's Cove West and East
Wednesday Week B (Exit 9 parking lot to North Lower Grant Road)
Friday Week A (Station Road to former Gold River School)
Friday Week A (former Gold River School to Croft Road, including Beech Hill)