Best of Chester Municipality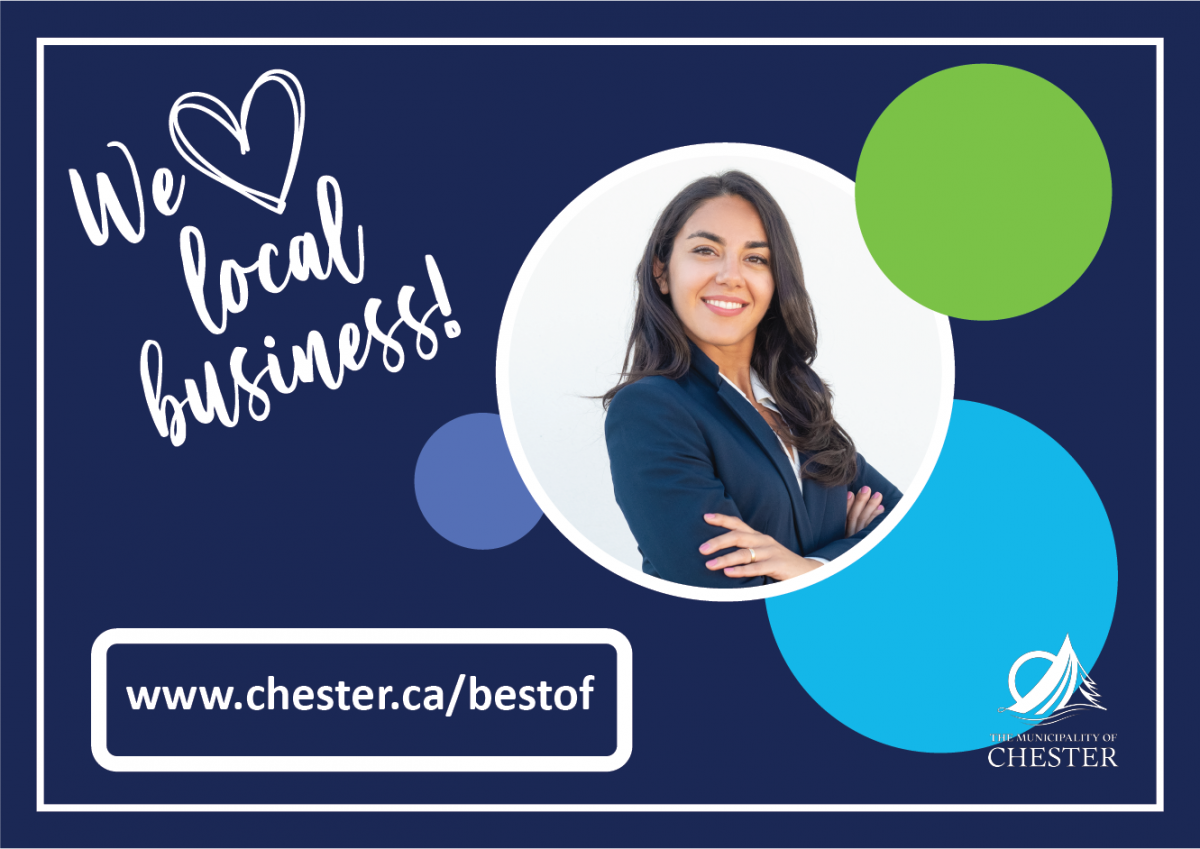 After three weeks of online voting, the winners of the 7th Annual Best Of Chester Municipality Business ("Best Of") Awards were announced this morning during Committee of the Whole session in Council Chambers.
The Best Of Awards highlight some of the finest local businesses in the Municipality with winners and runners-up in 23 categories. These businesses were nominated by the public between March 21 and April 4, 2022, with top three contenders  including ties) moving on to the voting round. Voting was open to the public from April 18 to May 9, 2022, and 14,345 eligible votes were cast.
The winners and runners-up in each category are as follows: 
Best Artisanal Retailer: Julien's Pastry Shop Ltd. (runner-up: Kiwi Pantry)
Best Building Services: Chester Building Supplies (runner-up: Toadz Odd Jobs)
Best Building Supplies Store: Chester Building Supplies (runner-up: Chester Home Hardware)
Best Community Space: Together We Can Community Park (runner-up: Lordly Park)
Best Farm or Forestry Business: Ross Farm Museum (runner-up: Conserve a Tree Forestry)
Best Garden Services: Oceanview Home and Garden (runner-up: Downey's Pitcher Plant Nursery)
Best Gas Station: The Gold Nugget AFN (runner-up: Chester Basin Petro-Canada)
Best Grocery or Convenience Store: Spidles' Your Independent Grocer (runner-up: Foodland – Chester)
Best Health Care Provider: Our Health Centre (runner-up: Chester Family Dental - Dr. Natasha Zinck)
Best Health or Beauty Services: Luna Salon Spa & Boutique (runner-up: Valerie's Hair Studio)
Best Manufacturing Business: Black Harbour Distillers (runner-up: Hawboldt Industries)
Best Marine Services Business: Gold River Marina (runner-up: South Shore Marine)
Best Mechanic or Auto Shop: Chester European Automotive (Jeff's Old Volks Home) (runner-up: Gold River Service Centre)
Best Non-Profit Group: Chester Lighthouse Food Bank (runner-up: Integrity's Haven Equine/Animal Rescue Centre)
Best Pet Services: Your Friend and Mine Pet Supplies (runner-up: Chester Basin Animal Hospital)
Best Place to Have Coffee: Imperfections Café (runner-up: Kiwi Café)
Best Place to Stay: Oak Island Resort & Conference Centre (runner-up: Mecklenburgh Inn)
Best Professional Services: Scotiabank - Chester (runner-up: New Ross Credit Union)
Best Realtor: Susan Diamond, Engel & Volkers (runner-up: Jessica Burch, Royal LePage Atlantic)
Best Restaurant: The Gold Bean Café (runner-up: Rope Loft Dining Room)
Best Spa or Fitness Facility: Sensea Nordic Spa (runner-up: Luna Salon & Boutique) 
Best Specialist Retailer: Black Harbour Distillers (runner-up: Julien's Pastry Shop Ltd.)
Best Vendor at a Farmers' Market: Julien's Pastry Shop Ltd. (runner-up: Higbee's Berry Farm and Nursery) 
Congratulations to all of the winners, runners-up, and nominees! We recognize it's difficult to pick just one favourite, so thank you to patrons who took the time to make their selections. Our Community Economic Development Officer will be contacting all winners and runners-up in the coming weeks.
We are giving Best Of a refresh next year! We welcome your constructive feedback, suggestions, and ideas for program improvement. Please reach out to our Community Economic Development Officer, Olivia Corkum, at ocorkum@chester.ca.